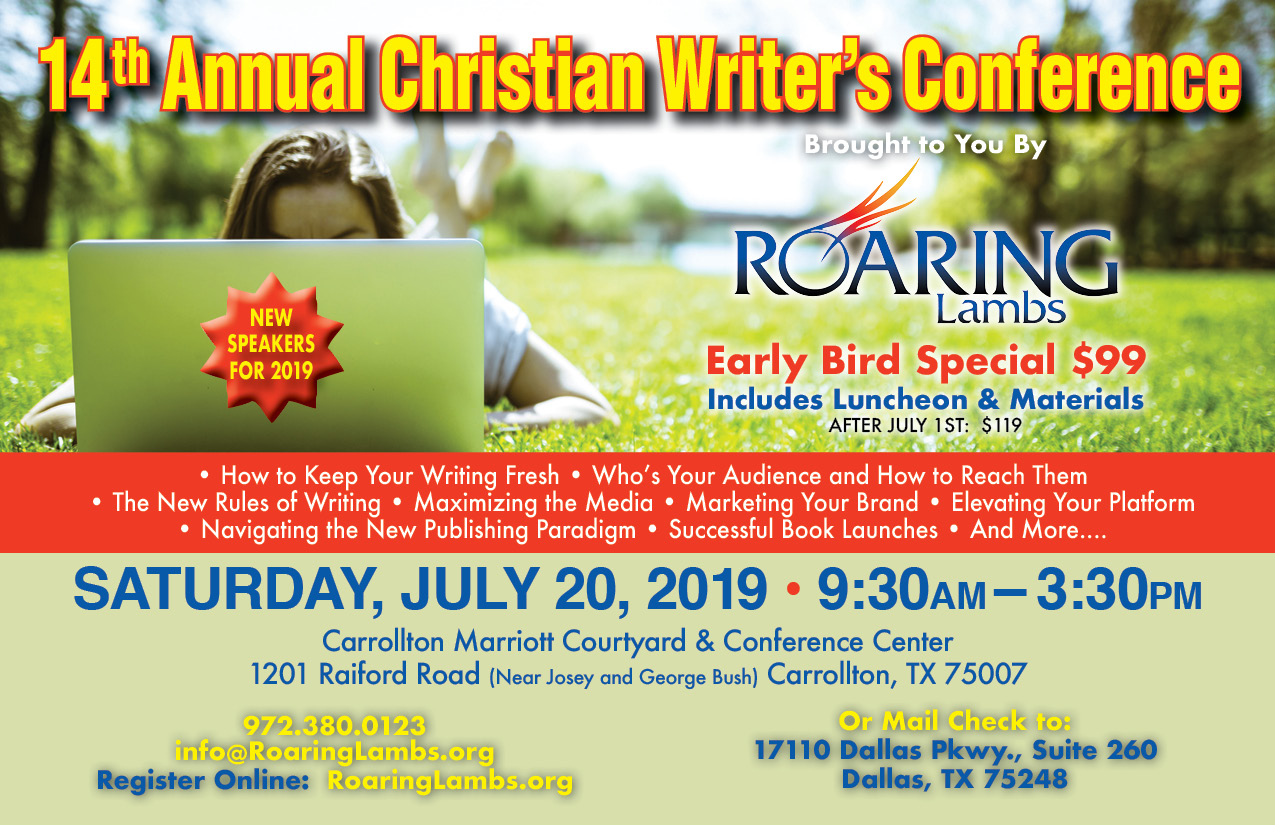 Register to join us at the All New
2019 Roaring Lambs Christian Writers Conference!
July 20, 2019. Register Early. Last year we sold out!
See below for a writing opportunity.



This year's conference has another great lineup of dynamic speakers and informative topics including:

• How to Keep Your Writing Fresh • Who's Your Audience and How to Reach Them • The New Rules of Writing • Maximizing the Media • Marketing Your Brand • Elevating Your Platform • Navigating the New Publishing Paradigm • Successful Book Launches • And More . . .
Last year's conference got RAVE REVIEWS. This year's conference will be EVEN BETTER!
2018 Conference Comments:
"Absolutely worthwhile. Well done

!"

"Thank you for top notch speakers who shared their stories and wisdom."

"I found inspiration as well as information."
When asked, "What was one thing you took away from this event?" last year's participants responded:
"Excitement about publishing."

"How to build your own platform."

"We have a unique story to share."

"Write every day."

"It is important to be faithful to share what God has revealed."

"Ways to promote my writing."

Attention All Writers!
Roaring Lambs is offering a great opportunity to publish your testimony and win a cash prize for your work.
We are in the process of gathering testimonies for the 5th Edition of Stories of Roaring Faith. Please submit your written testimony to be considered for inclusion in the 2020 edition of the book.
Here are the parameters for the testimony for Stories of Roaring Faith, Volume 5:
Your submission should be typed and double-spaced.
Your testimony should not exceed 3,500 words.
Do not use names of anyone in your testimony, unless you've obtained their permission.
Please provide an interesting

title

for your testimony,

three lessons learned

from your story, a

scripture

that goes with your story, and a

question

for the reader to consider for themselves.
You do not need to include the gospel message in the body of your testimony, because Roaring Lambs will include that within Stories of Roaring Faith.
Roaring Lambs has the right to edit your testimony, for grammar, length, and readability.
Use the NIV translation for scripture references.
Submissions should be sent to info@RoaringLambs.org.
Deadline for submission and consideration for the contest is March 31, 2020.
Contest awards will be: 1st Place - $100, 2nd Place - $50, 3rd Place - $25.
If selected for the book, the author will need to submit a short

bio

,

photo

, and a signed

release form

.
In addition, you will be considered as a guest on our Radio Show, A Time to Dream, which also features life-changing testimonies.