The 2019 Roaring Lambs Christian Writers Conference is almost here!

Saturday July 20, 2019, 9:30 AM - 3:30 PM
Carrollton Marriott & Conference Center
1201 Raiford Rd., Carrolltton, TX 75007
$119 (Includes Luncheon and Materials)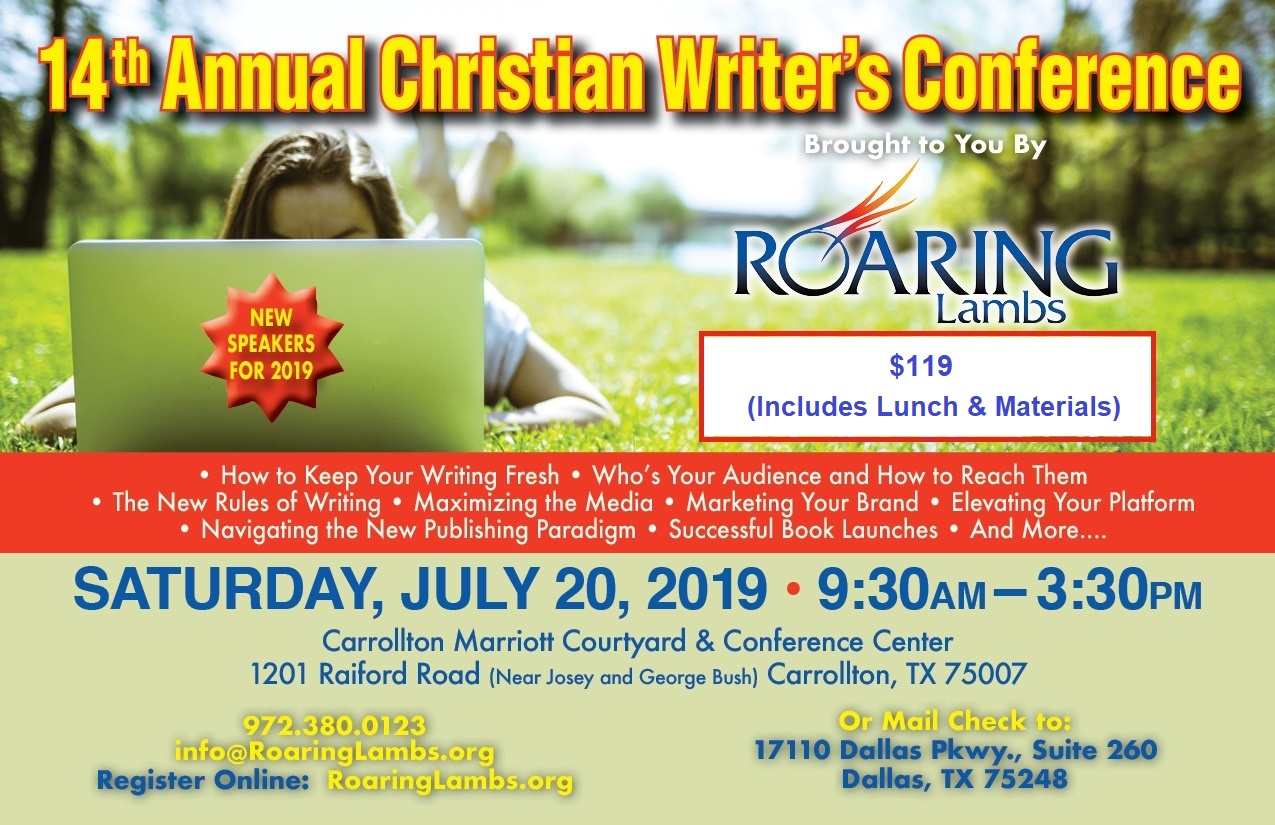 This year's conference has another great lineup of dynamic speakers and informative topics including:

• How to Keep Your Writing Fresh • Who's Your Audience and How to Reach Them • The New Rules of Writing • Maximizing the Media • Marketing Your Brand • Elevating Your Platform • Navigating the New Publishing Paradigm • Successful Book Launches • And More . . .
Our All-Star Line Up of Speakers Includes: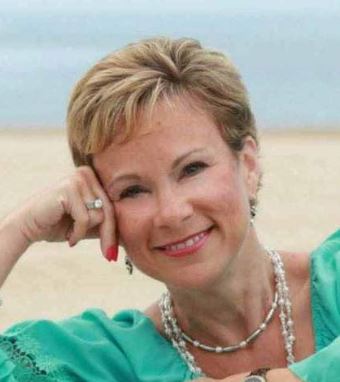 Dr. Michelle Bengtson: Author of "Hope Prevails: Insights From a Doctor's Personal Journey through Depression" and the "Hope Prevails Bible Study." A board certified clinical neuropsychologist with over 20 years experience in the diagnosis and treatment of medical and mental disorders, she also knows the pain of losing loved ones and the despair that can follow trauma or illness. After her strong faith in God carried her through her tough times, she began a mission to instill hope in the hearts of others. Her book Hope Prevails won the 2017 Christian Literary Awards prestigious Henri and Reader's Choice Awards. www.drmichellebengtson.com

Kathy R. Green: Author, publishing consultant, and speaker with a fresh voice to this generation. Kathy is the owner of KRG Publications, LLC where she coaches writers and authors to prepare their work for publishing. She also works as a consultant with Christian publishing companies, including Redemption Press, Dream Releaser Publishing, and Kudu Publishing Services. Her books include, Pray-ers Bear Fruit, Come, and Meet Me in the Valley. www.kathyrgreen.com

Dr. Mitch Land: Dean of the Media Arts at The Kings University (TKU) in Southlake, Texas. Dr. Land was the founding dean of the Mayborn School of Journalism at the University of North Texas and subsequently served as dean of the School of Communication & the Arts at Regent University from 2011 to 2017 prior to joining TKU. He is also co-founder of the Mayborn Literary Nonfiction Conference, which is the most prestigious literary nonfiction conference in America. Mitch served as one of the executive producers of In-Lawfully Yours, a romantic comedy co-produced by Home Theater Films and Regent Pictures. https://www.tku.edu/faculty/dr-mitch-land/

Tracey Mitchell: International speaker, a published author of the inspirational Downside Up and Becoming Brave, TV Host of Life From DFW, and CEO of 'The Winning Woman' Consulting Group. Tracey shares principles and wisdom with diverse audiences throughout America, Canada and abroad. Whether speaking to men, women corporate CEO's or the homeless, Tracey's love and passion for re-writing the lives of the brokenhearted make her messages relevant and empowering. Her love of life is evident as is her passion for Christ. www.TraceyMitchell.com

Beth Townsend: Founded The Baton Rouge Christian Life Magazine. Printing 10,000 copies each month, they reach an average of 25,000 readers and literally millions via social media. Beth won the Gospel Independent Grammy Humanitarian Honoree Award in April 2018 and an "Inspirational Woman" Award with Christian Women's Connection in 2017. She is a dynamic speaker, sharing stories from those she has interviewed as she weaves in stories from her own life. www.BethTownsend.com

Karen Witemeyer: Bestselling author who offers warmhearted historical romance with a flair for humor, feisty heroines, and swoon-worthy Texas heroes. Recently voted #1 Readers' Favorite Christian Romance Author by Family Fiction Magazine, Karen is a two-time winner of the ACFW Carol Award and three-time RITA® finalist. Karen is a firm believer in the power of happy endings. . . and ice cream. www.KarenWitemeyer.com
Last year's conference got RAVE REVIEWS. This year's conference will be EVEN BETTER!
2018 Conference Comments:
"Absolutely worthwhile. Well done

!"

"Thank you for top notch speakers who shared their stories and wisdom."

"I found inspiration as well as information."
When asked, "What was one thing you took away from this event?" last year's participants responded:
"Excitement about publishing."

"How to build your own platform."

"We have a unique story to share."

"Write every day."

"It is important to be faithful to share what God has revealed."

"Ways to promote my writing."

Attention All Writers!
Roaring Lambs is offering a great opportunity to publish your testimony and win a cash prize for your work.
We are in the process of gathering testimonies for the 5th Edition of Stories of Roaring Faith. Please submit your written testimony to be considered for inclusion in the 2020 edition of the book.
Here are the parameters for the testimony for Stories of Roaring Faith, Volume 5:
Your submission should be typed and double-spaced.
Your testimony should not exceed 3,500 words.
Do not use names of anyone in your testimony, unless you've obtained their permission.
Please provide an interesting

title

for your testimony,

three lessons learned

from your story, a

scripture

that goes with your story, and a

question

for the reader to consider for themselves.
You do not need to include the gospel message in the body of your testimony, because Roaring Lambs will include that within Stories of Roaring Faith.
Roaring Lambs has the right to edit your testimony, for grammar, length, and readability.
Use the NIV translation for scripture references.
Submissions should be sent to info@RoaringLambs.org.
Deadline for submission and consideration for the contest is March 31, 2020.
Contest awards will be: 1st Place - $100, 2nd Place - $50, 3rd Place - $25.
If selected for the book, the author will need to submit a short

bio

,

photo

, and a signed

release form

.
In addition, you will be considered as a guest on our Radio Show, A Time to Dream, which also features life-changing testimonies.